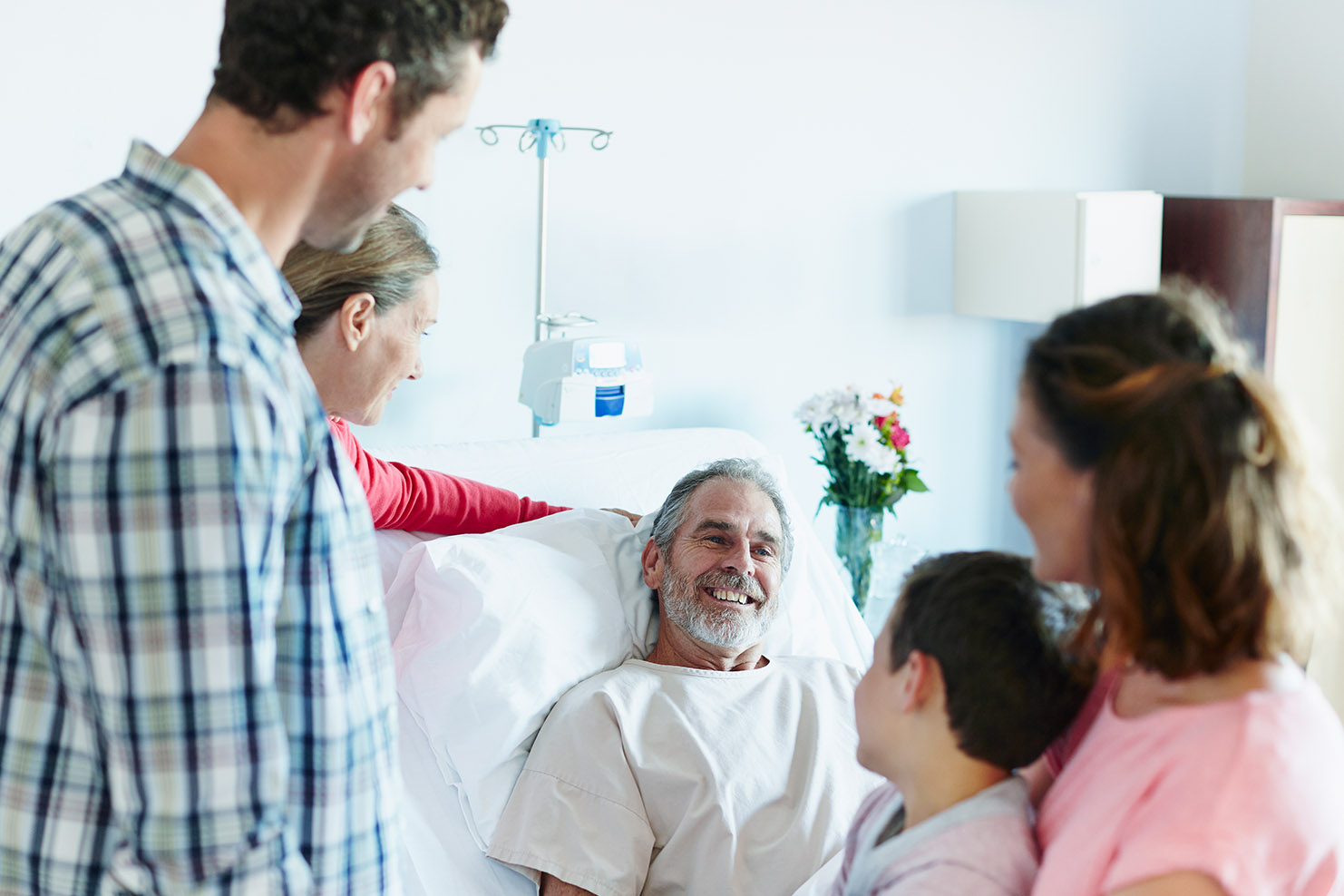 Overview
At TidalHealth, we are happy to offer a patient-centered, family-friendly visiting policy that is dedicated to promoting a positive healing environment and experience while protecting the safety and privacy of our patients.
---
Visiting Hours
CURRENT visiting policy at both TidalHealth Peninsula Regional in Salisbury, Maryland and TidalHealth Nanticoke in Seaford, Delaware:

- Two designated visitors, over the age of 18, per patient will be allowed during a patient's stay, except for patients suspected of having or confirmed to have COVID-19. While these two designated people, appointed by the patient, will be the only two permitted to visit, they may do so at the same time.
On Mother/Baby, the designated support person is allowed to stay 24/7. On Labor & Delivery, 2 designated persons are allowed to stay with the patient until they leave the unit.
Visiting hours are 11 am to 6 pm on weekdays, and 10 am to 2 pm weekends and holidays.
- All visitors are required to wear a face covering or mask that covers both their nose and mouth at all times during their visit. People who are unable to wear a face covering should not visit. Gaiters and bandanas will not be permitted. A mask will be provided for those visitors arriving with either of the two unapproved face coverings.
- Visitors must show identification and will be verified as the patient's appointed visitor. Upon entry, visitors will be screened for fever and other COVID-19 symptoms. Anyone who is feeling ill or feverish should not visit, and will not be allowed to go to a patient floor if they are found to have a fever or symptoms.
- Two support people are allowed to accompany a patient in the Emergency Department (ED). If that patient is later admitted to a medical floor, the support people must follow the modified visitation policy once the patient leaves the ED.
- At TidalHealth Peninsula Regional, visitors should enter via the Hanna Main Entrance (adjacent to the Emergency Department), located near the Visitor Parking Garage off Vine Street.
- At TidalHealth Nanticoke, visitors should use the main entrance or your designated entrance.

Labor & Delivery patients may have two support people with them during labor. The visitors are given visitor bracelets and are not permitted to switch out. When the patient moves to the Mother-Baby unit after delivery, then just one support person is permitted during the remainder of the stay, at all times. Pediatric patients and those with special needs are also permitted to have a support person with them at all times. Exceptions may also be made for end-of-life care.
The Special Care Nursery will be open for allowed visitors around the clock, except for 6:30 - 7:30 am and 6:30 - 7:30 pm. Only the parents/legal guardians will be allowed to visit in the Special Care Nursery, and only one parent allowed at the bedside at a time (to maintain social distancing). Once the mother is discharged, the parents can come in and out of the hospital twice per day total. Parents will continue to be screened upon entry and provided with a clean mask and gown.
At the Alice B. Tawes Nursing Home and Chesapeake Cove Assisted Living: Two visitors per resident, per visit, are allowed. If a resident has a shared room, a designated visiting area will be provided. All visitors, including children, must wear a provided surgical mask over mouth and nose at all times. Those who cannot wear a mask may continue virtual visits. Visitors can only visit one resident at a time, and must wear a badge during their visit. We encourage all visitors to show proof of negative COVID-19 test within 72 hours of visit. Visiting hours are 10 am to 8 pm. 
TidalHealth reminds visitors to see the nurse caring for their friends and loved ones upon arrival for additional and specific information on those specialized units. The number of visitors and the length of the visit may be determined by the TidalHealth care team in collaboration with the patient and the family based on the patient's condition, preference and need.
If you'd like to brighten a patient's day but cannot visit, you can send an e-card.
---
Child Visitation
Currently, children may not visit our hospitals. During normal operations, child visitation will be at the discretion of the family/designee and patient in collaboration with the patient care staff. Visits by children and siblings must be supervised, and children are never to be left unattended in a waiting area. During high viral activity, like the flu season, visits by children may not be permitted.
While TidalHealth encourages everyone to comply with the established visitation hours, we do understand there are times families may be required to visit outside of the established visiting hours or wish to spend a longer time with their loved ones. In those occasions, TidalHealth has implemented the following guidelines to protect the safety of visitors, patients and staff. 
---
Visiting After Hours
If arriving prior to 8 am, after 8 pm or if staying beyond 8 pm, all visitors are asked to report to the TidalHealth Security Station located within the Emergency Department. You will be required to provide identification and given a badge that must be worn at all times. The badge identifies you and will detail for our staff and security team the area you are visiting.
If wishing to spend an overnight with your loved one, the request must first be approved by the unit's charge nurse. Once approved, you will be asked to report to the TidalHealth Security Station. You will be required to provide identification and be provided a badge that must be worn at all times. The badge identifies you and details for our staff and security team the area you are staying.
TidalHealth reminds visitors to please take into consideration the needs of your loved one for rest, recovery and privacy.
---
Let's Keep Each Other Safe
TidalHealth asks visitors to:
always sanitize your hands before entering and leaving a patient's room
be considerate of others by keeping noise to a minimum
refrain from visiting if you have a cold, sore throat, flu-like symptoms or any contagious disease
observe and respect all precautionary room signage before entering
not smoke as the use of tobacco or vaping products is prohibited on all TidalHealth campuses 
voluntarily exit a room during tests or treatments if asked to do so by a member of the TidalHealth clinical team.
If you have any questions about TidalHealth's visitation policy or how it affects children and siblings, please be sure to inquire with a nurse on the unit to learn any specific details or restrictions.